Yealink Video Conferencing
Yealink offers a video conferencing solution for any meeting space ranging from huddle spaces to large boardrooms and auditoriums. All Yealink VC devices offer up to 1080p resolution with various microphone options including a touchscreen phone, wired or wireless microphones.
Large conference room solution with powerful MCU
The Yealink VC800 is designed for larger meeting spaces to solve companies' multi-party conference needs. Equipped with a powerful built-in MCU, Yealink VC800 supports up to 24-site HD video conferencing capacity and it can be divided into 2 Virtual Meeting Rooms which meets the modern workplace communication needs.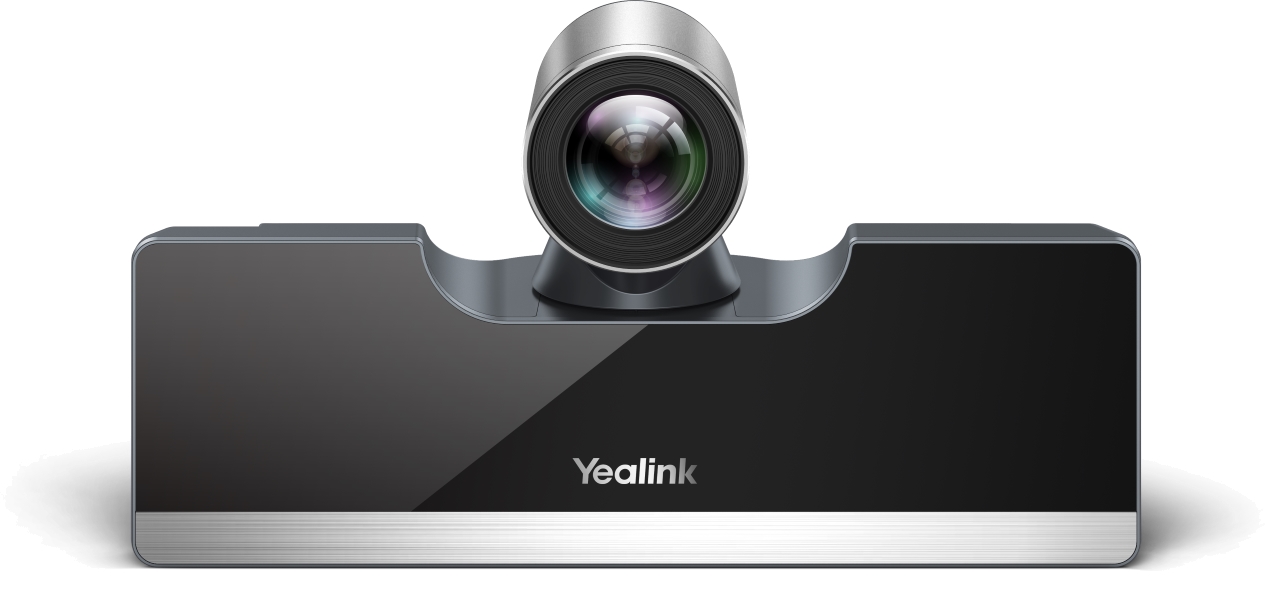 Ideal for medium meeting spaces
The Yealink VC500 delivers a lifelike face to face conferencing experience for medium sized meeting spaces. Its wide-angle lens provides an 83-degree horizontal field of view to ensure that everyone in the room are visible during a video meeting. Equipped with a 5X optical PTZ camera and up to 1080p60 resolution, the VC500 offers a superior quality experience.
Ideal for huddle and small meeting spaces
The Yealink VC200 is designed for smaller meeting spaces and huddle rooms and is optimised for use by teams of 2 to 6 people. Avoid cluttering up your space – the Yealink VC200 is compact enough to be unobtrusive yet packed with the features you need to get the job done. It's also immensely flexible and adapts to your needs. The Ultra HD 4K camera delivers sharp and smooth video, while the 6 built-in beam-forming microphones ensure you can pick up every comment and idea.
Yealink VC Desktop and Mobile
Extends video conferencing to mobile staff so that your entire team can be included, wherever they are when your meeting starts. Supports Windows, Mac as well as iOS and Android smartphones and tablets.
Making things clear
Live collaboration with no dead zones. This is the enterprise-grade conference phone you need to conduct calls with colleagues wherever they're located. Thanks to its outstanding sound quality, this is the ideal solution for medium or large conference rooms. No matter where people are seated, they can make meaningful contributions to every conversation. It's time to hear and be heard with the Yealink CP960 – if things get animated, no-one's mobility is compromised, and authentic voice reproduction means you'll always know who said what.
Powerful collaboration software makes meetings simpler
The increasing in modern communication means that a quality meeting management system is more important than ever. Yealink Meeting Server is a distributed cloud-based video conferencing infrastructure tailored for HD video conferencing collaboration in the modern workplace. As a powerful all-in-one meeting server, YMS brings together a host of key features and services: MCU, registrar server, directory server, traversal server, meeting and device management server, SIP Trunk, WebRTCserver, GK & H.460 server and Microsoft SfB(Lync) gateway.
YMS connects people with crystal-clear audio, HD video, content and web collaboration, bridging locations across any distance or device and providing users with an enjoyable conferencing experience while cutting costs and improving efficiency.